Celebrating Black History Month with 100 Great Black Britons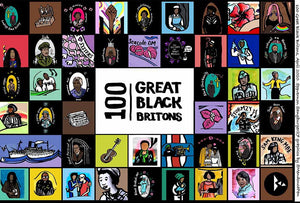 It is Black History Month, an opportunity to raise awareness and celebrate Black British History and the legacy and contribution of Black British people to our society.
We are working with Patrick Vernon OBE, Windrush campaigner and founder of 100 Great Black Britons campaign to create a range of engaging and educational resources that anyone can use to learn more about Black British History.
We launched The Windrush Game in 2018 to celebrate the Windrush Generation in Britain. Since its launch, the game has been used widely in schools and families to learn about the heritage and development of multicultural Britain.
This year, to encourage participation in Black History Month, Angelina Osborne and Patrick Vernon OBE have published 100 Great Black Britons, a long overdue book that celebrates the legacy of key Black British individuals.
The book is part of the 100 Great Black Britons campaign, which invited the public to vote for the Black Briton they most admired. We received thousands of nominations. In January, a panel of experts were invited to discuss and agree a short list of names. The 2020 100 Great Black Britons list can be found at: www.100greatblackbritons.co.uk  All of the individuals on the list are profiled in the book with accompanying portraits that explore the contributions and achievements of these individuals.
To support learning during Black History Month we also launched a school's competition as part of the campaign to encourage students to explore Black British History. The competition is sponsored by The National Education Union (NEU) and Racing Green Pictures. It is open to young people of all ages, as well as a special category for teacher to submit teaching resources. Children and young people are asked to create a fun and unique project celebrating Black Britons and their legacy.
Entries for the competition are open on www.100greatblackbritons.co.uk , the competition closes on the 31st of December 2020. The most creative and innovative projects will be featured on the website. 
The website will become a permanent resource for teachers to support Black History in the National Curriculum. We are encouraging educators who want to share their knowledge and resources to upload content to the campaign's official website: www.100greatblackbritons.co.uk