Is your workplace pet friendly?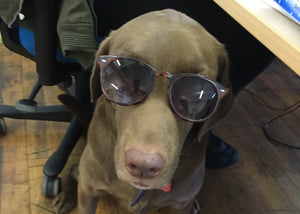 The sun's out in Glasgow, and one of the Focus Games team is definitely looking smooth for summer!
Our office is dog friendly, as are many workplaces, pubs and restaurants these days. But it is just a fad or does a dog in the office have more benefits than just convenience for owners?
Tye the Labrador definitely brightens up a day in the office. Studies have shown that dogs in the workplace improve productivity, boost motivation and help people to be nicer to each other. Focus Games board games are all about interaction, trying something new and improving the way you work – Tye helps us to do that in our own workplace.
Sure, it's lovely to be greeted with a "good morning" from your co-worker when you get to work. But can that compare with the wagging tail of a cuddly canine colleague? We don't think so…. Dogs encourage you to get away from your desk and be active too – lunchtime walkies have become a highlight of the day at Focus Games. That's a big tick in the "health and wellbeing at work" box!
If you're the boss in the office here's something for you - stress related illness costs UK businesses millions of sickness days every year. Research has shown that dogs in workplaces reduce stress, so you might even find it leads to a reduction in absence. Fantastic!
And don't worry, Tye does belong to Melvin, one of our directors. We didn't recruit him especially for the role of Chief Morale Booster, and we don't recommend that you do that either. But Tye has certainly filled his position effectively. Don't hang about on trying something new and making your workplace pet friendly – it's great, we promise!