Supporting the teaching of Black History in Secondary Schools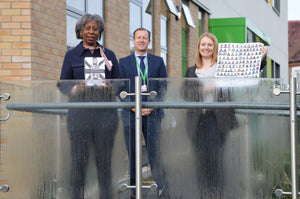 Teaching young people about Black British History is crucial to promote the legacy of those Black British people who helped to shape the Britain we know today.
Patrick Vernon OBE and Dr Angelina Osborne, founders of the 100 Great Black Britons campaign have published 100 Great Black Britons, a book that honours the remarkable achievements of key Black British individuals. The book explores the contribution that these people made, and continue to make, to British History.
The book records the results of the 100 Great Britons campaign, which invited the public to vote for the Black Britons they most admired.
A GOFUNDME campaign has been created by retired Headteacher Yvonne Davis, to help get a copy of the 100 Great Black Britons into every secondary school in the UK.
 The book can be used by teachers to support learning in class. It gives students an opportunity to explore Black British History and learn about the contributions of Black Britons
The objective is to send a copy of the book to over 8,000 secondary schools, including independent schools, special schools and pupil referral units.
Focus Games Ltd is managing the delivery of the books and they recently sent the first 300 books to secondary schools across the country.
"There has never been a more important time to relaunch the 100 Great Black Britons book and we are honoured to have received a copy. As we work in school to broaden the scope of our curriculum, reading this book will empower and motivate our staff and students as we continue to work together to raise awareness, challenge historical barriers in society and embed the celebration of the history and achievements of people of colour to Britain and British history." Headteacher, Chestnut Grove Academy
We welcome the support of any individual or organisation that is willing to fund the distribution of these books to schools.  You can donate here or by  contacting  info@focusgames.com
"It is with great pleasure to deliver a copy of 100 Great Black Britons and associated poster to celebrate the contributions of Black Britons. The tool is to inform and to educate all pupils and adults through the life stories of our forefathers and contemporary figures. I believe this will inspire all children to achieve and to be resilient and determined when faced with challenges. It is hoped the historical journey will open conversations about equality and achievement. The campaign will continue until the objective has been reached for all secondary schools in the UK to receive a copy and poster." Yvonne Davis
Focus Games Ltd is also supporting the 100 Great Black Britons campaign including running a national school competition which will run until December 31st: www.100greatblackbritons.co.uk