Moving towards a sustainable society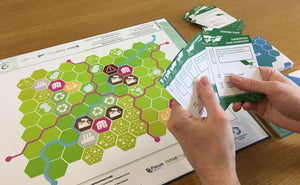 Environmental issues are major challenges of the 21st century. We often hear on the news about the consequences of climate change and how important it is to reduce our environmental impact.
Of course, there are small things we can all do to help slow down global warming: recycling, eat less meat, use public transport and not your car, etc. But what can be done at a larger scale? Many of us don't know how industries and communities can help, in practical ways, to be profitable and sustainable at the same time.  
Society still relies on scarce resources to manufacture products and communities must find new and innovative ways to increase productivity in a sustainable way.
Waste can be used to create added value. For example, when a brewery produces beer, 100 to 200 grams of grains per litre are not used during the process. These grains could be used to produce food supplements, antioxidants and bio-chemicals. Many industries are looking to  follow a similar process to use their unavoidable waste to create added value, profit and become more sustainable in the process.
The THYME project, a North of England project designed to improve productivity of the local circular bioeconomy and biobased companies. This project is a collaboration between the universities of York, Hull and Teesside. THYME focuses on three areas: transforming bio-based waste into new products, converting industrial sites by re-purposing them for bio-based manufacturing and, growing the region's bioeconomy by bringing together research and commercialisation capacities.
The bioeconomy is a part of everyday life. It involves using renewable living things such as plants, animals and microbes to produce food, energy and other materials. As the world moves away from its dependence on products manufactured from fossil fuels, it is important that we all understand how the bioeconomy works and contributes to sustainability. In collaboration with the MeLoop Foundation, based in India, the THYME project and Focus Games developed the Bioeconomy Game, a fun way to raise awareness, promote change and help people learn how to develop a circular economy. To complement the physical game there is also a digital version which can be played on a mobile device.
We wanted to develop a game that could be used by anyone who wants to improve their knowledge about the circular bioeconomy and sustainability.  
The Bioeconomy Game can be used to educate students about sustainability as well as training aid in the workplace. It gives players a better understanding of how products are made from renewable resources. During the game players must minimise the amount of waste that goes to landfill by creating added value from it. The game encourages players to work together to support each other and manage challenges.
The Bioeconomy Game was launched on the 14th of November 2019 and the response to the game has been amazing and organisations across the world are using it to promote change.
To find out more and purchase the game (educational discounts apply) visit the Bioeconomy Game's website