Starting the conversation around pressure ulcers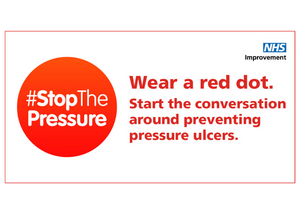 November 15th 2018 is International Stop Pressure Ulcers Day. This year, a brand new NHS Stop The Pressure awareness campaign has been launched to raise awareness and get people talking about pressure ulcers and their prevention. 
We've supported the Stop The Pressure campaign since 2016, developing the Stop The Pressure board game in partnership with the NHS, to help frontline healthcare staff learn about what they can do to help prevent pressure ulcers. 
This year we continue to support the Stop The Pressure campaign on social media, and encourage you to do the same! 
Wear a red dot to symbolise your support, and start a conversation about pressure ulcers with anyone who spots the red dot and wonders why you're wearing it. It's a simple symbol designed to bring attention to the impact of pressure ulcers, to help continue the conversation and raise awareness.
Pressure ulcers lead to longer stays in hospital and cause harm to many people, from newborn babies to people at the end of their lives. Do what you can to raise awareness, and join the conversation on social media.
Use the hashtags #StopThePressure and #StopThePressureDay on Twitter, to share your support and ideas to raise awareness. You can also download a red dot for your Twitter, Facebook or Instagram profile on the Stop The Pressure website.
Join us and support the campaign! #StopThePressure
If you want to learn more about pressure ulcers and their prevention, you can play our simplified online Stop The Pressure game, or learn more about the Stop The Pressure board game at www.stopthepressure.co.uk