4 Reasons Why You Should Consider Board Games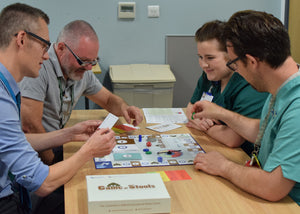 We know that educational games work and help people to learn. But if you've never done it before, you might have some questions about why it's useful. Here are our top 4 reasons for using board games in training and education:
1. We're hardwired to learn through play
.
When we're young, we learn by playing. It's natural, and it's how we develop as children. And, we're all still 'hard wired' for playful learning. Board games help you learn through play.
2. Playing a game brings people together.
An educational board game doesn't just deliver learning objectives – it also helps teams work better together. They break down hierarchies and cross-border rivalries and bring staff together to enjoy themselves. Board games give players 'permission' to relax and enjoy being in a group; and we all learn better when we're relaxed.
3. It's a face-to-face experience.
A lot of modern education and training is solitary and isolating. Playing a board game is the opposite. Our games are always lively and noisy with lots of 'banter'. The interaction, talking and collaboration all help players develop their "soft skills" and to build relationships.
4. We learn from each other.
Board games encourage sharing of knowledge and experience. Everyone playing a game has something to contribute and the game allows them to share it. Formal classroom learning can be intimidating, and many people stay silent; people playing our games are never silent. Every game is different because the players are different, they bring a unique blend of knowledge and experience to each game.
This isn't just our opinion – our games are being played in hundreds of hospitals, care homes, universities, schools and other organisations. We estimate that over 1 million people have played our games. Join them!